FLOOR STANDING
Available in

Reverse Cycle (Heating & Cooling)

Capacities

2.5kW, 3.5kW, 4.5kW, 5.0kW, 6.0kW, 7.1kW

Refrigerant

R410A
Daikin's floor standing air conditioning units are compact and ideal for anyone wanting the convenience and access of positioning their unit closer to the floor. They come in a wide selection of capacities and can even be semi-recessed into the wall or in an unused fireplace.
Approved by the National Asthma Council Australia, Daikin air purifiers and split systems are authorised to display the Sensitive Choice butterfly symbol.
Key Features
It's the unique features of Daikin products that makes us the world leader.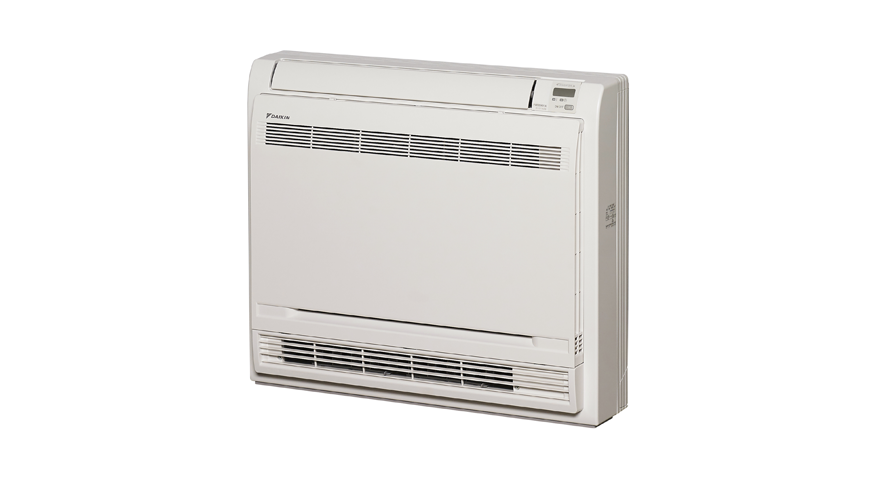 Automatic Mode Changeover

Allows the unit to automatically switch between heating and cooling for year round comfort.

Wide Operating Range

Robust design enables the unit to operate from -15°CDB in Heating mode to 46°CWB in Cooling mode.

Even Air Distribution

Either top, or top and bottom discharge vents can utilised to distribute air evenly throughout the room.

Hot Start

Heating operation commences only when the airflow is warm, preventing those unwanted cold draughts.

Auto Fan Speed

An optimal fan speed is automatically selected to suit the set temperature for a more efficient operation.

Air Purification

Titanium apatite deodorising air purification filter traps microscopic particles, decomposes odours and even deactivates bacteria.
Daikin's 5-year parts and labour warranty applies to split, multi split and ducted air conditioners purchased and installed in homes across Australia
FLOOR STANDING Technology
1
Advanced Filtration
Features the combination of a particulate prefilter for collecting dust particles and a titanium apatite deodorising air purification filter.
2
Turbo Fan
The large swept blades enable air to be discharged quietly and efficiently via both the top and bottom discharge vents for even airflow into the room.
3
DC Fan Motor
Daikin's DC Fan motor is efficient and compact, featuring five step fan speeds including quiet and auto mode.
4
Program Dry Function
When operating in this mode, the microprocessor intelligently adjusts temperature and airflow rate to reduce humidity with minimal compromise to comfort.
Technical Specifications
Available Options:
System:

Reverse Cycle

Capacities:

2.5kW, 3.5kW, 4.5kW, 5.0kW, 6.0kW, 7.1kW

Indoor Type:

Floor Standing

Power Supply:

1 Phase, 220-240, 50Hz

Refrigerant:

R410A
INDOOR UNIT
FVXS25KV1A
FVXS35LV1A
FVXS50KV1A
FVXS50LVMA
FVXS60LVMA
FVXS71LVMA
OUTDOOR UNIT
RXS25LAVMA
RXS35LAVMA
RXS50KVMA
RXS50LAVMA
RXS60LAVMA
RXS71LAVMA
Rated Capacity
Cool (kW)
2.4
3.5
4.9
5
6
7.1
Heat (kW)
3.3
4.4
5.6
5.8
7
7.6
Capacity Range
Cool (kW)
1.3-3.0
1.7-3.8
1.4-5.6
1.7-5.6
2.3-6.7
3.0-8.5
Heat (kW)
1.3-4.5
1.7-5.0
1.4-8.1
1.7-8.1
2.3-9.0
3.0-10.0
Indoor Airflow Rate (Hi)
Cool (I/s)
137
147
178
260
292
273
Heat (I/s)
147
157
197
285
285
317
Indoor Fan Speeds
5 steps, quiet and automatic
Energy Label/ Star Ratings
Cool
3.5
3
1.5
3
2.5
2
Heat
3.5
3
2.5
2
Front Panel Colour
White
Power Supply
1 phase, 220-240V, 50Hz
Power Input (Rated)
Cool (kW)
0.59
0.92
1.57
1.30
1.70
2.13
Heat (kW)
0.79
1.17
1.61
1.59
2.03
2.21
E.E.R./C.O.P.
Cool/Heat
4.17/4.22
3.80/3.78
3.13/3.53
3.85/3.65
3.53/3.45
3.33/3.46
A.E.E.R./A.C.O.P.
cool/Heat
4.12/4.18
3.77/3.75
3.12/3.51
3.82/3.63
3.51/3.44
3.32/3.45
Dimensions (HxWxD)
Indoor (mm)
600x700x210
770x850x290
Outdoor (mm)
550x765x285
735x825x300
770x900x320
990x940x320
Weight
Indoor (kg)
14
25
Outdoor (kg)
34
46
48
46
71
80
Compressor Type
Hermetically sealed swing type
Refrigerant Type
R410A
Max Pipe Length
(m)
20
30
Max Level Difference
(m)
15
20
Pipe Sizes
Liquid (mm)
6.4
9.5
Gas (mm)
9.5
12.7
15.9
Outdoor Operating Range (outdoor temp)
Cool (CDB)
10 to 46
Heat (CWB)
-15 to 18
Indoor Sound Level (H/SL)
Cool (dBA)
38/23
39/24
44/32
45/32
47/33
46/33
Heat (dBA)
38/23
39/24
45/32
45/32
45/33
47/34
Outdoor Sound Level (H/SL)
Cool (dBA)
46/43
47/44
49/46
52/49
Heat (dBA)
47/44
48/45
49/46
54/50
Outdoor EPA Sound Power Level (H)
Outdoor (dBA)
Cool/Heat
60/61
61/62
63/63
66/66
EECA Energy Star Compliant
Yes
Common Questions
We know you have questions.
Here are our most frequently asked questions and the answers that go with them.
Split Systems
Daikin Split System Air Conditioners are ideal for air conditioning one room or a specific area of a home. Discreet wall mounted and compact floor standing units are all part of the Daikin range.
Why choose Daikin?

Experts in Air Conditioning
Specialist Dealer Network
Quality After Sales Support

Sensitive Choice® Approved